Close Protection and Executive Board Security
OUR LIVES ON THE LINE FOR YOUR SAFETY.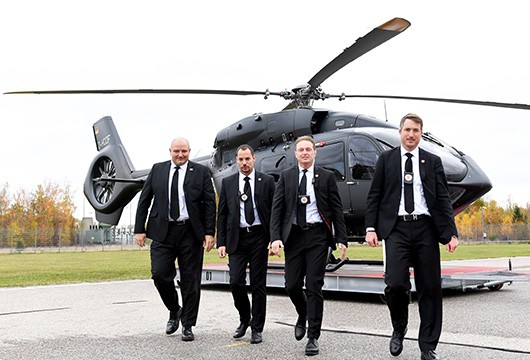 You or your family are threatened and fear for your lives? Professional and financial success, media attention or even business decisions such as necessary job reductions often lead to severe threats.
Whether you are an entrepreneur, a board member, a public figure or an individual – many clients already entrust us with their lives. As we are specialized in ensuring your personal protection and safety, in private as well as business environments. We discreetly and reliably ensure your protection at your home, in your company or at business meetings – wherever you and your family might be.
Especially in the area of highly sensitive executive board security, we are at your disposal with our many years of experience and professional expertise. P3 Security is your certified expert for close protection, executive board security and security escorts in Munich, Germany and all over Europe.
FREE INITIAL CONSULTATION
Our unique selling point? TÜV-certified security experts!
We only work with specially trained and experienced security experts. P3 Security is one of a few hand-picked experts in Europe who are allowed to employ TÜV-certified and regularly trained experts for close protection. The successful graduation of the personal protection training requires a minimum of 400 training hours and covers a basic training period of 18 months. To maintain the close protection certificate, consistent further and advanced training is a mandatory requirement. Our certified and highly trained close protection officers have extensive operational experience. They usually have a police or military background and they are required to participate in regular scenario training and education in accordance with the requirements of TÜV re-certification.
Training extract to ensure the performance of our close protection experts:
Close Combat & Tactical Medicine (TCCC)
Practical training indirect and direct close protection
Weaponry expertise (according to §7 WaffG)
Legal bases
Operational tactics
Driving technique and operative driving training
Hostage-taking, evacuation and active shooter training
In addition to the effective protection of the endangered person or their relatives, our security experts ensure the greatest possible freedom of movement with experienced security strategy and security tactics. Absolute discretion and secrecy are a matter of course for our security experts, as well as correct behaviour and a well-groomed appearance.
FREE INITIAL CONSULTATION
We are your silent security partner always remaining discreetly in the background.
Planning, organization and execution of a close protection assignment require qualified experts with a high level of qualification, highest reliability and many years of experience. Professional close protection also requires an individual security concept in advance of the execution. Thus, we prepare a detailed risk analysis and hazard assessment prior to each close protection assignment. The primary goal is to guarantee the personal freedom of movement of the person being protected as far as possible. All personal protection measures are carried out in close coordination with all affected persons. To ensure that you reach your destination safely, you can also use our chauffeur and limousine service with our trained protection drivers. We are also happy to take on additional property protection measures for you, such as house surveillance or the installation of alarm and security technology.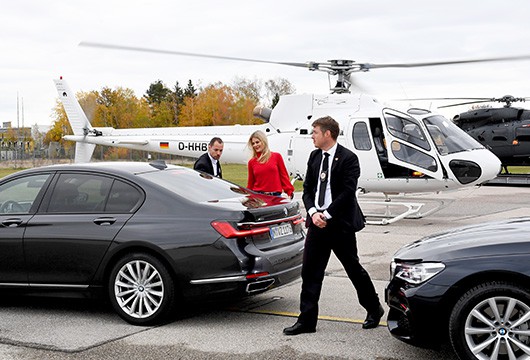 Your benefits – our services:
Individual protection strategies and security concepts tailored to your very personal security needs
Daily updated safety and hazard analyses
Permanent or temporary close protection by experienced and TÜV-certified security experts (on request armed as well as protection vehicle for your safety)
Seamless pre- and post-exploration
Comprehensive, professional security consulting for endangered persons
Flexibility also abroad
Additional protection through the use of state-of-the-art location/surveillance technology and covert communications equipment
SUBMIT A REQUEST
We protect your loved ones.
No time for taking your child to school, to the doctor's, to friends or to grandma and grandpa? With our pick-up and drop-off services, P3 Security are at your disposal as a reliable partner. We also offer shuttle services to your loved ones – across Germany or Europe. Booking at short notice is possible.
If you need professional and certified close protection in Germany or abroad, please contact us. We will be very glad to advise you.
SUBMIT A REQUEST
We know how to do it better.
Our unique selling point? TÜV-certified security experts! We know how to do it better.